R U OK? How to start the conversation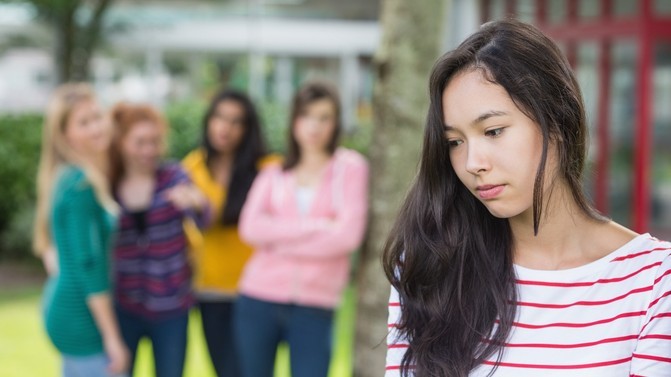 Today is R U OK? Day, a day dedicated to reminding people of the power of conversation to spark change: in someone's day, in their perception of themselves, in how they are feeling or how they see a situation they are in. R U OK? Day prompts us to ask our family, friends, colleagues, loved ones and even strangers the question – "R U OK?"
After experiencing suicide of his father in 1995, founder Gavin Larkin started R U OK? Day with the aim of creating a national platform to prompt and support people to ask about the mental health and wellbeing of people in their lives, knowing that checking in with someone can make a real difference to their immediate mental state.
Having conversations about the mental health and wellbeing of people we care about can be hard. Sometimes we may feel like "It's not my business" or "They would tell me if something was wrong" and sometimes we don't ask because we are afraid of the answer we might get. We can also feel like we need to have enough "evidence" to justify asking how someone is.
What we do know is that when people are struggling with their mental health it can be really difficult to talk to others about it. Shame, stigma and not wanting to burden other people can be barriers to people asking for help when they need it. R U OK? Day reminds us that we need to push past our worries about asking how someone is, and remember that the only real way we can know if a person is OK is to ask!
R U OK? Day supports us to have these conversations by giving us 4 easy steps to follow, Ask, Listen, Encourage Action and Check In. There are some pointers on how to go about these steps in the image below.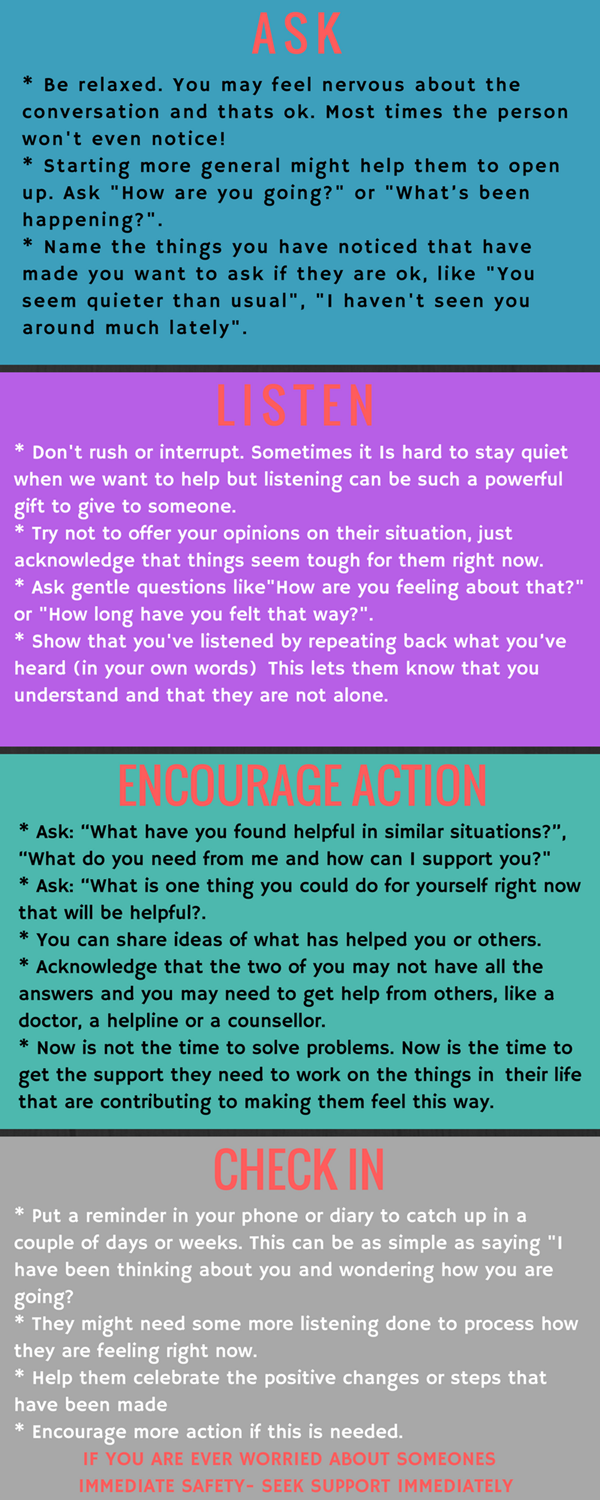 Before you can help other people, it is important to look out for yourself. If you are not in the right headspace or have too much going right now to approach an individual yourself, then think of someone else in their lives who might be able to talk to them instead.
Tell this person that you are worried, what you have noticed and that you think someone should talk to this person but that it can't be you. This is not a failure on your part or a betrayal of confidence.
Knowing when you are able (and most importantly not able) to give 100% to the conversation and seeking out someone else to step in shows care, concern and respect to the person that you are worried about.
If you decide you are in the right place to have the conversation ask yourself: Am I ready?
Am I prepared? Have I picked my moment? Answering these questions will give you a good indication of whether you are well prepared. Follow the steps Ask, Listen, Encourage Action and Check In.
Remember that all the responsibility does not fall to you. You are simply the person who might be opening the door wide enough for someone to be able to explore their mental health and wellbeing and to help them seek any supports they may need at this time. You cannot and should not be the only support for someone.
What if I get it "wrong" and the person is fine?
Great! This conversation has done some wonderful things. Firstly, it has shown that you are an amazing and wonderful human being who cares about others, and if this person ever does need someone to talk to they know that they can come to you.
Secondly, if you had been having concerns about that person you now know that everything is fine and you don't need to spend time worrying anymore.
What if I don't believe someone or they push back and dismiss my concerns?
Sometimes when people are in pain they need a little time to open up about it. Giving that person some silence and space then asking gently again or letting them know that they can come to you later if they need someone to listen can be a great help here. As can asking if there is someone else they would like to talk to instead of you.
Human relationships are complex and sometimes people may love and care for us, but feel more comfortable talking to different people about certain things. If you are ever concerned about the immediate safety of someone – get help ASAP. You can contact a crisis line for support and information, speak with someone else in their life or contact emergency services.
What if I say something in the moment that they react badly to or seem like I am trying to solve their problems or talk for them?
Sometimes we avoid having conversations because we don't know what to say. The beauty of R U OK? Day is that we mostly only need to listen. If we do say something that gets a surprised or frustrated reaction that is ok. Just name it, apologize and move on. You could say something like "Sorry I just got caught up in trying to help too much instead of listening, tell me more about what is going on"
How do I tell someone I am not OK?
Find someone you trust and ask them for a chat. Let them know that you have been feeling like you need someone to talk to and you think they will be a good listener. The amazing thing about asking someone for help is not only that you are now not alone and have someone to help you work out what supports would be helpful for you, but you have also smashed those barriers of stigma and shame right to the ground! Asking for help can be an act of revolution that encourages others around us to both seek and offer help.
R U OK? Day conversations don't have to be just about suicide, mental health and wellbeing. They can be about self-care, resilience and checking in as a way to keep ourselves mentally fit. They can also just be a great way to tell someone that they are cared for, noticed and loved.
R U OK? Day shouldn't be only September 12th – it can be every day! Don't save up your conversations for one day of the year. Ask often and always. You may have no idea the power that those four little letters can have to the people you say them to.
More resources can be found at www.ruok.org.au
Bella Broadway
---
Do you need some support?
If you are struggling with anxiety or depression, support and counselling are available from:
Lifeline: 13 11 14
Beyondblue: 1300 22 4636 and www.beyondblue.org.au
QLife: 1800 184 527 and www.qlife.org.au
QLife are a counselling and referral service for Lesbian, Gay, Bisexual, Transgender and Intersex (LGBTI) people.
---
Support OUTinPerth
Thanks for reading OUTinPerth. We can only create LGBTIQA+ focused media with your help.
If you can help support our work, please consider assisting us through a one-off contribution to our GoFundMe campaign, or a regular contribution through our Patreon appeal.