Review into blood donation rules for gay and bisexual men is progressing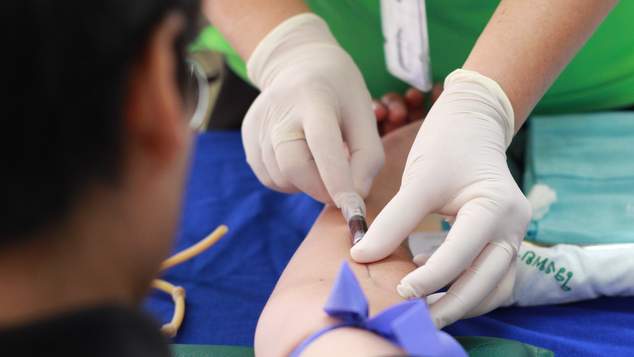 A spokesperson for the Red Cross Blood Donation Service has updated OUTinPerth on the progress of a review into the current rules surrounding blood donation.
Currently men who have had sex with another man within the last twelve months are banned from donating blood. To volunteer as a blood donor gay, bisexual and other men who have sex with men must first abstain from sexual activity for a year.
The Red Cross Blood Donation Service submitted a proposal in 2012 to half the amount of time gay men must abstain from sex from 12 months to 6 months, but the proposal was knocked back by the Therapeutic Goods Association.
In 2016 at the Commonwealth Heads of Government (COAG) meeting Health ministers from around Australia agreed to bring forward a review on the longstanding policy. The Red Cross says that review is now progressing and it is expected a new submission will soon be submitted to the Therapeutic Goods Association.
"Blood Service deferral policies are regularly reviewed and are underpinned by the most up-to-date clinical and scientific evidence, so that Australia maintains one of the safest supplies of blood in the world.
"As standard practice, the Blood Service periodically establishes external committees to inform the development and review of our policies. The safety and wellbeing of blood donors and recipients of blood products is foremost in all of our decision making." a spokesperson for the Red Cross said.
"Currently the Blood Service is reviewing the policies on sexual activity deferrals, and has again established an external committee to provide advice that will be used to inform this review. This builds on the advice given by a previous external committee in 2012.
"The Blood Service has received the external committee's report. Our medical experts are considering the advice of the committee along with international and local evidence, which will inform the usual in-depth clinical risk assessment and broader review.
"The Blood Service will then consider a number of potential options regarding sexual activity deferrals, ahead of a submission to the Australian regulator, the Therapeutic Goods Administration (TGA), for its consideration. Any future policy decisions will be a matter for governments." the spokesperson said.
The current status around blood donation was highlighted in the media this week when Tasmanian gay man Ben Dudman written to the leaders of all three political parties calling for a new blood donation policy after he discovered he is barred from giving blood.
Dudman said that he considered the policy to be outdated, limits the supply of safe blood and fosters stigma against gay men.
"It is absurd that I can't give blood despite practising safe sex, whereas heterosexual people who don't have safe sex can donate," Dudman said.
The issue is one that is being faced by government's around the globe. Iceland recently announced it would change its laws to allow gay men to donate blood after a year of abstinence, previously it not allowed gay men to donate at all.  England and Scotland have put forward a proposal to reduce their waiting period to three months, while Denmark has opted for a four month waiting period.
Southern River MLA Terry Healy highlighted the need for the Australian guidelines to change during his inaugural speech to parliament in 2017.
Healy shared that he held a record in the field of blood donations, and questioned why antiquated rules from the 1980's still prevented gay men from contributing.
"I'm very proudly an advocate for blood donation, and made my first bleed when I was seventeen" Healy shared.
"As a universal O-neg donor I just started donating every fortnight. Last year making that regular diary appointment made me the youngest person in Australia to have made 300 blood donations.
"There are of course something that need to change with Red Cross and move with the times. We need the Therapeutic Goods Administration to amend the discriminatory practices of its blood donation regulations for gay and bisexual men.
"The regulations are not based on a rational risk assessment but rather on an unfounded 1980's fear of that there was some kind of inherent link between being gay and having AIDS." Healy said.
The Southern River MLA said we should screen donors, but instead of screening them based on the gender of their sexual partner, the focus should be on the potential donors sexual behaviour.
"It doesn't matter if you're gay or straight, if you have activity that puts you at high risk you shouldn't be able to donate, if you're at low risk – you should."
OIP Staff
---