The year in review: What went down in November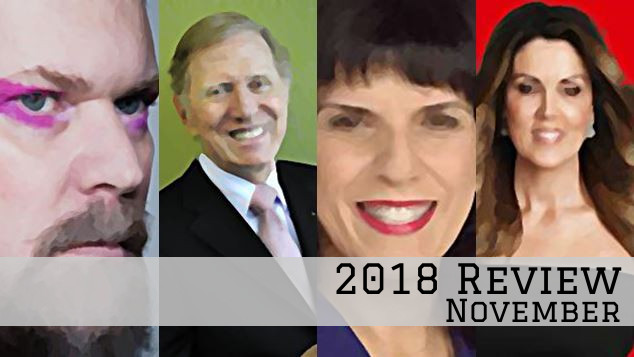 Continuing our journey through the stories of 2018 we come to November, where politics focussed on the unreleased Ruddock Review, MPs quit the government and Perth celebrated its biggest Pride parade ever.

Politics
Nationals senator Barry O'Sullivan declared he wanted to be a woman. The debate over protecting LGBTIQ students continued with a group of Anglican schools arguing that they needed the right to expel queer students, Liberal MP Craig Kelly said there was no evidence of gay students being discriminated against. Andrew Hastie lamented that not enough Australians were Christians. Archbishop Anthony Fisher suggested the government release the Ruddock Religious Freedom Review. Labor suggested a senate inquiry, Equal Love said PM Scott Morrison could not be trusted,   Kerryn Phelps was officially declared the winner of the Wentworth by-election, placing the Morrison government into minority status, it lost another seat when Julia Banks resigned. Kelly O'Dwyer described her colleagues as 'homophobic'.Former Labor leader Mark Latham announced he was joining Pauline Hanson's One Nation. The Western Australian parliament finally began debating changing the laws which forced transgender people to get a divorce if they seek official gender change recognition, but it progressed slowly before finally passing the lower house. The Australian Conservatives Sophie York was shocked when another guest on Outsiders disagreed with her, colleague Kirralie Smith launched Binary an organisation opposed to recognising transgender people.  Eric Abetz was not happy with Tasmania's birth certificate proposal. Liberal senator Jim Molan was bumped to an unwinnable spot on their senate ticket for the next election.

In the News
The Freedom Centre launched the Queer to Air podcast. A bookshop in Maylands were hit by a wave of abuse for hosting drag queen storytime, local MP Nick Goiran was concerned. The governor of Tanzania's largest city announced a plan to hunt down all gay people., the government said it was not 'official policy', but they lost millions in foreign aid. Sky News sacked Outsiders host Ross Cameron after he made racist comments on air. Local LGBTI rights organisation Rainbow Rights denied they were too aligned with the Labor party.  The government approved a visa for AIDS denying, anti-vax filmmaker Joan Shenton. Ten women were arrested in Indonesia during an LGBTI crackdown. There were calls for WA to review laws regarding HIV disclosure. It was suggested that the next census might included transgender people, Peta Credlin had some thoughts on the idea. We marked one year since the postal survey decision. A wedding magazine that refused to feature same-sex couples closed. In the Victoria state election the Liberals preferenced a candidate who support gay conversion therapy. Labor lead by Daniel Andrews won the election and he announced his support for Safe Schools. In New Zealand police were banned from Auckland Pride, sponsors pulled out in response to the decision. The Northern Territory fixed its marriage laws for transgender people. Taiwan voted against marriage equality. News Corp columnist Miranda Devine said Labor would introduce 'normatron' as a gender. A Mandurah woman complained to her local newspaper about there being too many visible gay people.

Celebrity
Actor Jake Borelli came out as gay. Michael Kirby and Johan van Vloten announced their plans to wed. After much speculation it was official the Spice Girls would reform. Cartoonist Larry Pickering and filmmaker Bernardo Bertolucci died.

Culture
Perth celebrated Pride with the biggest parade ever! The Griffith Review launch All Being Equal. Kylie announced a tour of Australia. We chatted to musician John Grant. The Bi Life hit TV screens.  We chatted to P.P. Arnold. We went behind the scenes with the Coming Back Out Ball Movie.  Wentworth was saved with two more years of episodes being commissioned.
---