The year in review: What went down in July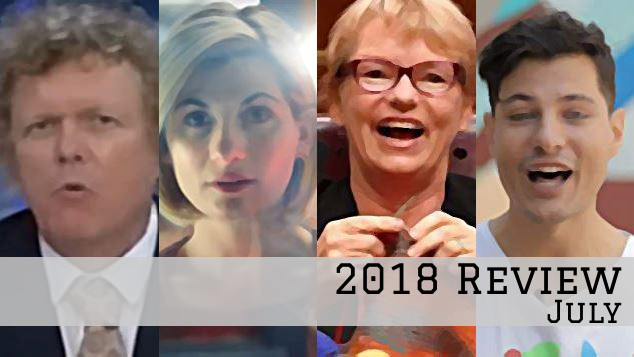 We're past the halfway point in our review of the big news stories of 2018. Here's that happened in July.

Politics
The political career of South Australian senator Lucy Gichui appeared to be over after the Liberal party gave her an unwinnable spot on their ticket for the next election. The Australian Conservatives' Lyle Shelton called for another book about gender identity to be banned, several Government MPs argued that greater protections were needed for religious freedom, Father Frank Brennan, who was a panel member of the unreleased Ruddock Review, said only minor changes were needed, the Australian Christian Lobby said the review was probably inadequate. Janet Rice donated her knitting.

In the News
A group of Perth teenagers targeted gay men via Grindr luring them to remote locations to rob and assault them. An Irish teenager was arrested for attacking the PantiBar.  Greens senator Janet Rice said Australia needed to protect people from gay conversion therapy, the Australian Christian Lobby defended the practice, WA Health Minister Roger Cook said he was against it, Britain said they'd consider outlawing it.  Father Frank Brennan was banned from speaking at a Tasmanian Church, Rising homophobia in Indonesia was making it difficult to tackle HIV in the populous nation, debate raged over whether kids should be taught about safety when sexting, a Malaysian MP spoke up for LGBTI rights, former US President Jimmy Carter said Jesus would approve of gay marriage, Thai boys trapped in a cave were rescued – Sky New host Rowan Dean said they were saved because none of their rescuers were gender diverse, and also coal… Protesters found a creative way to display the rainbow flag at the World Cup in Russia, hundreds of people in Korea called on a pride march to be banned. Two men were caned in Indonesia for having homosexual sex. Michael Ebeid quit SBS. A Christian broadcaster claimed Rachel Maddow would lead a coup of America. Lee Kuan Yew's grandson shared that he was gay, ahead of the 10th Pink Dot celebrations in Singapore. A Japanese politician said gay relationships make people unhappy. The world's top HIV researchers said there was no case for HIV criminalisation, WA politicians disagreed. Sydney man who defaced a 'St George Michael' mural was sentenced. Joan Shenton – a documentary filmmaker who claims HIV does not lead to AIDS was denied entry into Australia.

Celebrity
We chatted to Mr Gay World – Jordan Bruno. Jodie Foster opened up about her rainbow family, RTRFM Breakfast host Caitlin Neinaber announced she was moving to Double J, Tab Hunter died, Paris Jackson said she didn't do labels on sexuality but was part of the LGBTIQ+ community, film director Ang Lee named some of the actors who turned down Brokeback Mountain. Barry Humphries said teachers who support transgender children are "evil". Joel Grey spoke about coming out later in life. We chatted to Maizie Williams from Boney M. Pink filmed a video in Northbridge.

Culture
Wentworth was the big winner at The Logies, while industry veteran Bert Newton was criticised for his speech. Scarlett Adams continued her burlesque adventure, Scarlett Johansson was criticised for signing up for a transgender role – she later quit the part, a Sydney newspaper was criticised for using a gay slur when reporting the story. Drag stars got in front of the camera for You Can't Ask That, the cast of Queer as Folk reunited, Jodie Whittaker took over as the Doctor, Samantha Jade went disco, Cher revealed she was releasing an ABBA album, while news broke that there would be a Downton Abbey film, rumours swirled that Wentworth would be axed. Troye Sivan and Ariana Grande went dancing. The WA Opera had a huge success with Lindy Hume's Carmen. Katy Perry played a show in Perth. Orange is the New Black returned but many favourite cast members were written out.  
---