The year in review: What went down in September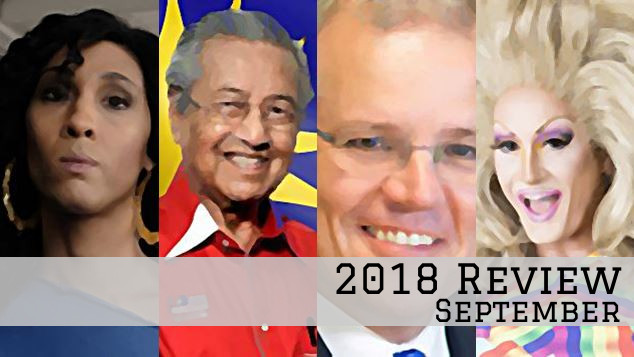 In September discussion about the Ruddock Religious review heated up with Prime Minister Scott Morrison outlining his plan to introduce laws to protect religious freedom from future threats. The new PM also said he had no concerns about conversion therapy, worried about gender whisperers and said the thought of kids considering what its like to be same-sex attracted made his "skin curl".

Politics
Over 42,000 people signed a petition opposing gay conversion therapy. New Prime Minister Scott Morrison said he didn't have any thoughts about the issue, Senator Janet Rice said he should take a stand, and Labor said he lacked leadership, the PM went on to say that education programs where kids consider what it's like to be same-sex attracted made his "skin curl". The Prime Minister then started tweeting about gender whisperers, Senator Janet Rice said it was clear Morrison was no friend of the LGBTIQ+ communities, Michael Kirby said the jury was still out,  ACON said the PM was stigmatising queer youth, the PM said he was defending parent's roles, Senator Dean Smith said the PM's comments were unfortunate. The senate passed a motion vowing to work towards ending conversion therapy. Christine Forster dropped out of the race for Wentworth, Kerryn Phelps announced she'd run as an independent.  Scott Morrison said we need religious protection laws not for things happening now, but things that could happen in the future. The Greens asked Scott Morrison if he was ever going to release the Ruddock Review? The government said they would not release it yet because they were still working on their official response, Kerryn Phelps asked if they could release it before the Wentworth by-election. Lyle Shelton from the Australian Conservatives said the Coalition for Marriage lost the marriage equality debate because they only had three months to make their case, while gay activists had been working towards converting politicians for 30 years. Senator Fraser Anning went off on a rant about Safe Schools. Facebook deactivated Fraser Annings Facebook page for a while, but then put it back, OUTinPerth's story was featured on Shaun Micallef's Mad as Hell. Dan Tehan said protestors should pay for security when they protest at Universities. The Vice Chancellor of the University of Southern Cross said universities should know who is speaking on their campuses and their background.

In the news
India decriminalised homosexuality. People in Singapore asked when they would remove colonial era laws outlawing same-sex relationships, but a poll showed most Singaporeans supported the ban, a new legal challenge to the laws was launched, the government said gay people face no discrimination, the Catholic Church asked for the laws to remain. Malaysia's Prime Minister Mahathir Mohamad said his country would never accept LGBTI rights, but Deputy Prime Minister Anwar Ibrahim disagreed.  Chelsea Manning appeared at a speaking event via video link after the government denied her a visa, during her conversation she chastised journalist Peter Greste for repeatedly dead-naming her. Malaysia caned to women for having sex. A school in Thailand was slammed for offering a seminar on avoiding sexual deviation.  Perth teenagers responsible for luring gay men via Grindr before robbing and bashing them appeared in court. COnservatives got upset that Thomas the Tank Engine was getting new friends who were girls. The bill to expunge historical homosexual convictions passed through the WA parliament. Official figures showed Perth hospitals were helping more transgender youth.  The Australian Christian Lobby pleaded with the WA government not to allow gay couples and single people access to surrogacy. The American Academy of Pediatricians said transgender children should be allowed to explore their gender options. Researched shows gay and bisexual men were getting tested for HIV more than ever, and rates of new infections were dropping. The Ally Conference was held at Curtin University.

Celebrity
BarbieQ celebrated 20 years of performing. Mac Miller died. Grey's Anatomy got their first gay surgeon. Robbie Williams showed poor form by quizzing a transgender TV contestant about their gender history. Joel Creasey's new TV show struggle to find an audience. Tadd Fujikawa become the first professional golfer to come out as gay.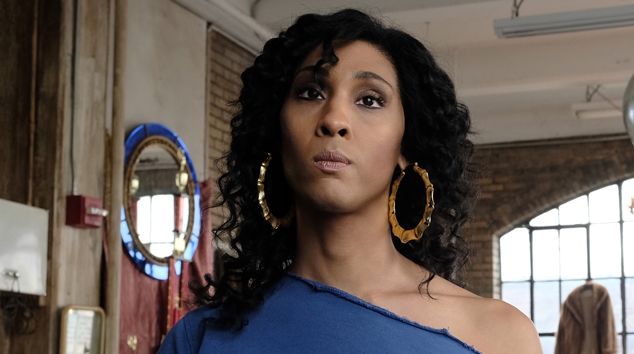 Culture
The WA BAllet delivered their sensational production Dracula. Rapper Eminem was criticised for using gay slurs on his new album. We chatted to musician Handsome. Lily Allen announced her Australian tour. Kiddy Smile released a great album. David and Arron got married on Neighbours. Culture Club released their first song in decades. We chatted to MJ Rodriquez from the TV series Pose.  We found out more about the film The Miseducation of Cameron Post. We chatted to Suede. We got our hands on Cher's ABBA album. We chatted to stage legend Elaine Paige. We spoke to Clare Bowen from TV show Nashville. Lady Gaga released Shallow, a song that's been on the radio every day for the rest of the year.